Our tours give you the opportunity to explore Romania without having to worry about mapping routes and connecting the dots. However, you might feel the need to wander around and discover its beauty at your own pace. That's why I'm gonna give you some insights about driving and renting a car in Romania.
Looking for a flexible and relaxing trip or maybe you're traveling with a bunch of friends and have a lot of gear? Rent a car to get the most of your traveling experience, plus some priceless convenience powered by having a car at your disposal.
Why visit Romania by car?
If you want to experience the country in a liberating, yet comfortable way and you're more the wanderer type, visiting Romania by car could be a blast for you, especially if you're returning to the places you loved here.
Getting around in Romania by its public transportation system is affordable, but might not fit your schedule and pace. Even if it's helpful when you have a local to guide you, the system doesn't always reach the best off-the-beaten-path destinations. Don't go missing out on countless natural wonders, historical sites and interesting locations. The best way to explore Romania is by its epic roads.
Driving around Romania: what you can see along the way?
Hop in the car and have an adventure! Every region has something to offer and the most popular destinations are just a short drive from one another.
The Transfagarasan Road
If you're passionate about driving, you're not allowed to skip this famous road which has 90 kilometers of spectacular view. Top Gear said is actually the best scenic road in the world. At its top end, you'll be awarded with the views of Balea Lake!
The Berca Natural Reservation
A place that gathers fascinating miniature volcanoes, an interesting natural phenomenon. You can visit the volcanoes on our day tour: Wine Tasting & Mud Volcanoes.
Piatra Craiului National Park from the Southern Carpathian Mountains
If hiking is your thing, this is a must see. Magura is a lovely village nearby where you can rest, enjoy Romanian hospitality and home cooked meals.
Romania's collection of castles, citadels and fortresses
Surrounded by an aura of mystery and legend, Bran Castle owes its fame to its imposing towers and the myth created around Dracula. The Peles Castle tops the list for most Romania enthusiasts and Corvin Castle represents one of the most accomplished Gothic castles in Europe.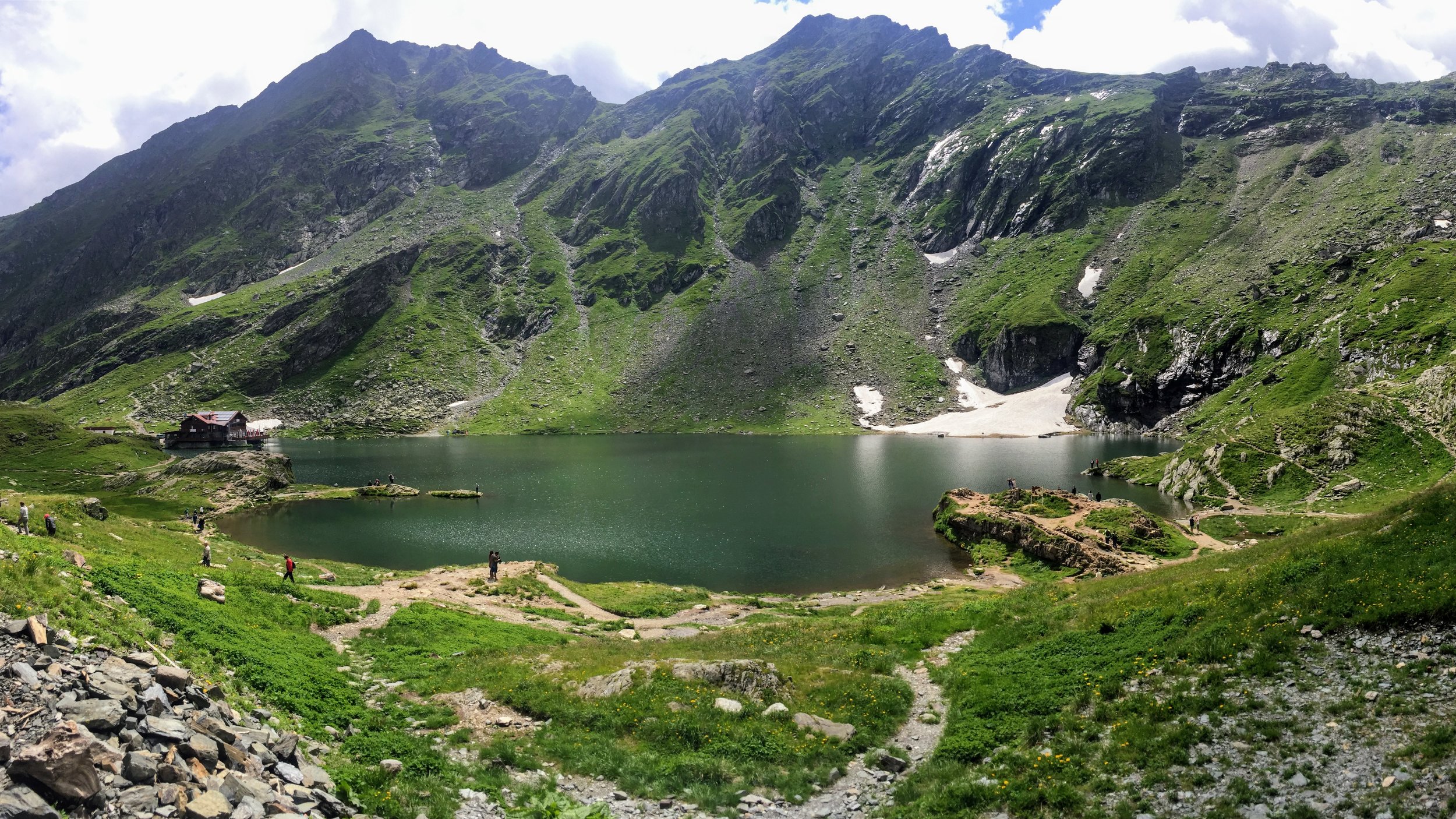 Transfagarasan Road Tour 3 Days
What you need to know about driving in Romania
There are some stories about how dangerous is to drive in Romania. The truth is, most of these stories are exaggerated myths or happened many years ago.
Driving in Romania is straightforward if you know what to watch out for, as is hiring a car.
The Romanian driving style is a bit aggressive, but it isn't much different than the Italian or Spanish way. Here, people like to go as fast as possible and speeding is pretty common but everybody in Romania drives with their headlights on at night, which adds safety.
Sometimes intimidating, the city traffic can be a bit overwhelming for a foreigner and even an adventure in itself. Even if driving in Romania is not much different than in the rest of Europe or the States, and the laws and road signs are similar, drivers can be aggressive. Tailgating and overtaking are very common.
Bad Romanian driving practices you need to be aware of
Very often and even in inappropriate conditions, Romanian drivers will try to overtake you. Driving at a high speed while being close to the car in front of you is a common practice here and also a public concern in most of the big city centers.
Using the horn often and for no real reasons, driving backwards, overtaking on blind bends are just some of the bad driving practices you'll stumble upon.
Is it safe to rent and drive in Romania?
All you need to do to be safe is to follow some common sense practices:
Don't expose your valuable stuff in your car while you're away.

Lock your doors before you leave.

Park in special parking areas.
Romanian roads' conditions
Since there are few sections of highway, the traffic might get congested and you can encounter potholes. The road infrastructure is fairly modest. Yet, the national roads offer breathtaking scenery, linking the main cities in the country.
While urban roads are in good condition, rural roads can knock your enthusiasm off. Still unpaved or unlit and lacking marked lanes, make sure you take extra care when driving through the countryside. You can find many surprises down the road: pedestrians, animals, horse drawn carts are some of them.
Road speed limits in Romania
Speed fines are not a fun souvenir, so here's what you need to know about the speed limits when driving in Romania. Keep in mind that these are not in miles, but km:
Inside towns, villages and residential areas: 50 km/h;

Normal roads and outside built-up areas: 90 km/h;

National and European (E) roads: 100 km/h;

Highways: 130 km/h.
Traffic rules and regulations
Along major roads and highways you're likely to see both hidden and visible speed cameras. Romanian police has now high-tech radars that help them catch motorists breaking the law. Keep in mind that speeding is a very loved bad driving practice around here. By the way, bribing is ill-advised, so don't try this get-away solution.
On major roads, cars from the opposite direction will sometimes flash their headlights. They are trying to warn you they've recently passed a radar trap which may be ahead of you. So keep your eyes wide open!
Traffic rules to swear by:
Drive on the right, overtake on the left and always give the right of way to those entering roundabouts.

Always give priority to ambulances, fire engines, trams and marching columns. In built-up areas and at roundabouts, vehicles coming from the right have priority.

Honking is not allowed in Romania between 22:00 and 06:00.

When you drive at night, you should use the lights as a warning sign instead of honking.

Drivers must signal their intention using the lights.

The wearing of seat belts is compulsory in the front and back seats, kids included.
Alcohol doesn't mix with driving in Romania
Romania will give you plenty of reasons to party, but be aware of its zero tolerance policy on drunk driving. The blood alcohol limit in Romania is 0.0%.
Under 0.8 g/L, you may receive a civil fine with possible suspended licence. Above that, the driver faces imprisonment of 1 to 5 years. Don't be surprised if the police stops you to carry out an alcohol test, this is a common practice.
How to rent a car in Romania
If you're feeling ready to drive in Romania on your own, here's what you need to know.
Renting a car in Romania comes in handy when you have plenty of destinations on your list and you're ready to check them all. Here you'll find out everything you need to know before making this move.
Minimum age for driving in Romania
The minimum age to rent a car is 21 years. Even if you are able to drive in your native country at a lower age, you should meet the country's requirements. The renter, as well as the driver or second driver should have a valid driving licence for a minimum of 12 months.
Keep in mind that if you travel with friends that would like to drive themselves, they have to be present to be added to the Rental Agreement and have a full driver's licence for at least a year. The additional driver must also meet the minimum age requirements. There is an extra charge per day per additional driver.
Documents required to drive and pick up a rental in Romania
You need a full valid European driving license or the international driving permit. Keep close a proof of insurance, ID or passport and proof of ownership (V5C Certificate). If your licence is non-roman alphabet, you should present an international driving licence. Copies of driver's licence, expired or temporary driving allowances are not permitted.
What rental cars are best in the city and for road trips?
Romanian traffic can be chaotic, so we recommend you to consider driving a reliable, small dimensions car. This way, you will be able to sneak around small places and find the best places to park.
For best experiences on the road, we recommend you to choose a car you're familiar with. Long distance travel may require a stronger engine than the average 1.4. Make sure you consider the luggage weight and the heavy acceleration problem. Dacia Logan is the best and often rented car in Romania.
Automatic or manual transmission?
Most cars in Romania have manual transmission which means that automatic cars are in short supply and therefore come at a premium cost.
What do you have to do at the pickup location?
Inspect the car carefully for body damage;

Memorize the mark, model, and color of your car;

Be sure that every feature is working properly and check the mileage odometer;

Report any defects at once at the pickup location.
How much are car rental fees in Romania?
We advise you to look beyond price. Customer service, reservation, pickup, return and extra fees are practices that matter more and will make the difference.
Book early is a good mantra to follow. The periods May – August and December – January are usually busy. Most of the holiday trips happen in those months. Thus, rental companies usually require 10% in advance. You can get some fantastic deals on car rentals in Romania if you book well ahead. The later you leave it, especially at peak holiday periods, the higher the cost will be.
In Romania, car hire prices vary depending on the rental period and discounts begin from a rental period of 4 days.
TIP: Mini' or 'economy' cars will usually be the cheapest to hire. Choose the smallest car that can take all your luggage in the boot (trunk). If there are more than two of you and you'll be doing a lot of driving, look for a compact or midsize car.
What car rental taxes should you expect?
In Romania, common hire costs include registration, contract, cross-border and credit card fees. Rental cars are usually charging 30% as a cross border fee. Keep that in mind if you want to visit neighboring countries and also that you're allowed only on the continental part.
Credit card fees
Most credit cards charge a 3% foreign transaction fee. The best advice to follow is to pay in advance from your country. Making an online transaction won't be extra charged unless you want to pay using a payment order at the bank.
Additional driver fee
You already know you'll be facing long driving hours?
Report to the rental car company that you will have a secondary driver. An extra charge will apply (2-3 EUR per day), for a maximum of 10 days, for each additional driver. You're passable of losing all your deposit if you forget or don't announce the rental company of this change.
Keep in mind that the drivers mentioned in the contract are the only persons allowed to drive the vehicle. You should notify the rental company of the extra driver when you rent the vehicle.
Can you pick the car from a city and leave it in another one?
If you plan to pick up a car in one city and drop off in another, you will incur an extra drop off charge.
Ask your rental company if you can rent a car in Bucharest and leave it in rental location in Cluj, for example. Within Romania, between cities, a one way fee will apply. This depends on the car model you choose and also rental period. Plan your trip carefully so you can return the car where you picked it up (or nearby). This is the best option to avoid extra fees.
What type of insurance is best to have on your rental?
Rental car insurance can be a major area of confusion for travelers. There is no rental agency that will let you rent a car without insurance. Your best bet is to check with your insurance and credit card before you leave your country to see what kind of coverage you have (you may be covered on your credit card) and what additional coverage you might need. Otherwise, you will be required to take the insurance from the rental agency.
Make sure you're not paying for coverage that your credit card account already includes.
Super Collision Damage Waiver Insurance
Super CDW insurance represents a coverage that relieves you of financial responsibility in case of theft or damage. It costs between 10€ and 30€ a day. If you have comprehensive and collision on your own car, you may not need to buy this coverage.
This may sound pricey but, for most travelers, it's worth the free-hassle. This coverage isn't insurance, technically. Rather, it's a waiver. The car-rental company waives its right to collect a high deductible if the car gets damaged. Super collision damage waiver covers most of the car if you're in a collision. Thus, if you get mixed up in a collision, all you need to do is to call the police and the rental car will solve the problem.
The car rental excess (deposit)
The excess is also known as the deductible. It represents the amount you are liable to pay to the car rental company if you have an accident or simply return the car damaged, even if it wasn't your fault. The excess is a fixed amount that the insured is liable to pay in the event of a claim. It can vary and will be dependent on the vehicle you're hiring.
You cannot rent a car in Romania without a deductible agreed in your Rental Agreement.
How to manage the situation in case of an accident
You're in vacation and you're only worry is to relax and enjoy the scenery. You may not think about a rental, but you should always be prepared. Here you have the steps to closely follow if you find yourself in an unfortunate situation.
Request a police accident report. You will need to have an accident report to show your insurance company.

Take notes and pictures.

Fill out an accident report at your rental car agency. Notify your rental car agent immediately after the accident.

Call your insurance company and your credit card company. Depending on your policy, your car insurance company may be able to cover damage done to a rental vehicle. Keep in mind there is a time limitation on claim after the accident.
How to avoid extra car rental fees
Extra charges should be always read as extra features.
If you want to save some money you should bring your own driving gadgets. Airport car rentals often come with higher rates, we recommend you to look for rental car companies with convenient downtown or suburban locations to avoid extra fees.
Make sure you deliver the car in the same conditions you got it. Drive it back with the full tank and properly cleaned or prepare to pay extra. Don't forget there is an extra charge for the airport pickup and delivery.
How to return the car rental
We recommend you to arrive 30 minutes earlier for further verification. Going to the rental company up to 90 minutes earlier is best if you report problems. Don't forget to return the car exactly how you got it: clean and with a full tank. That will save you extra charges at the rental office.
Romanian driving has its perks, but the scenery compensates big time. You won't even remember the poor infrastructure! Plan in advance and respect the regulations and your trip around Romania will be enjoyable and hassle-free!